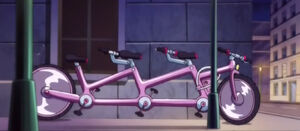 Overview
The WOOHP-a-Trois is a tandem bicycle built for 3 used by the girls in the episode "The Wedding Crasher" when they are traveling in Paris. At first it appears to be just a regular tandem bicycle, but at the end of the episode, it is revealed to have amphibious capabilities as it can be ridden on the water as demonstrated by Samantha's parents as they tour London.
Trivia
Gallery
Ad blocker interference detected!
Wikia is a free-to-use site that makes money from advertising. We have a modified experience for viewers using ad blockers

Wikia is not accessible if you've made further modifications. Remove the custom ad blocker rule(s) and the page will load as expected.