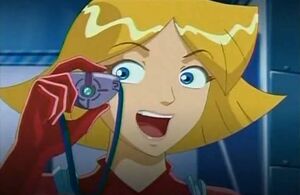 Overview
Seen in "Evil Shoe Designer". It allows the wearer to magnify small objects so that they can be seen better such as text.
Alexandra uses it to read "YMB", Yves Mont Blanc's logo off a clue the spies find on the cruise ship Beatrice Bash was attacked on. 
Gallery
Ad blocker interference detected!
Wikia is a free-to-use site that makes money from advertising. We have a modified experience for viewers using ad blockers

Wikia is not accessible if you've made further modifications. Remove the custom ad blocker rule(s) and the page will load as expected.