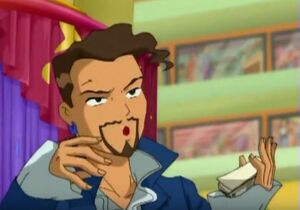 Biography
Tyresius appears in "Fashion Faux Pas". He was a psychic that the girls met at the mall. While Clover and Alexandra were excited to meet him, Samantha immediately called him a fake because she does not believe real psychics exist. He responded by telling her that "change" was coming her way soon and that three things would happen to her; she would increase in wealth, meet a tall, dark stranger, and then take an unexpected trip.
After those things happen to occur, Sam turns into a fanatic, fully believing that Tyresius has psychic powers and starts calling him constantly to learn more about her future much to Clover and Alex's annoyance who keep telling her that everything that he has told her that has come true is nothing more than lucky guesses.
At the end of the episode the girls discover that Tyresius is actually "Tony the Clown", a clown who works at Balloon World. Long before that revelation it becomes clear that Tyresius is a fake when Sam calls him after his first predictions come true and tells him everything he said happened and he responds by saying "It did?" in complete shock.
Gallery
Ad blocker interference detected!
Wikia is a free-to-use site that makes money from advertising. We have a modified experience for viewers using ad blockers

Wikia is not accessible if you've made further modifications. Remove the custom ad blocker rule(s) and the page will load as expected.