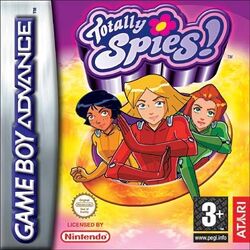 Overview
"Totally Spies!" is a video game based on the French anime-influenced animated television series Totally Spies!.
This game is notoriously known for having several game over screens, instead of just one reoccurring one.
Game play
Totally Spies will allow you to play with the 3 typical Beverly Hills girls who secretly work for the WOOHP (World Organization Of Human Protection).
Jerry will provide you some high-tech gadgets as the Lipstick Microphone Camera or the Multi Function Charm Bracelet. Your mission is to prevent earth from a global crisis: infiltrating a chemical site, pursuing on a snow bike criminal, saving hostages, protecting celebrities?
Stories
The Aptitute Test
Save The Earth
The Halloween Chase
A Lovely Singer
Kiwi-Kiki In Dangeradd
Features
Play as Alex, Sam and Clover through 5 missions and 16 sub-missions
Use your high-tech gadgets against evil
Play various missions and take the control of different vehicles
Be a spy and a fashion girl from Beverly Hills
Ad blocker interference detected!
Wikia is a free-to-use site that makes money from advertising. We have a modified experience for viewers using ad blockers

Wikia is not accessible if you've made further modifications. Remove the custom ad blocker rule(s) and the page will load as expected.