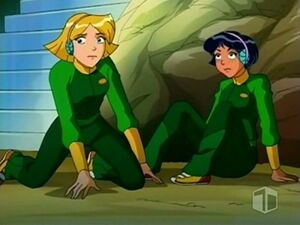 Overview
Seen "WOOHPersize Me!". They cancel soundwaves.
Clover and Alexandra were able to block out Mario's hypnotic music by putting them on and prevent being under his control.
Trivia
When Clover received the gadget from Jerry Lewis, she asked if it was powerful enough to block out Mandy's voice so that she would no longer have to hear it.
Clover thought the scrunchie itself was "très cute" but when it transformed into the sound cancelling device she found it to look "super tacky".
Gallery
Ad blocker interference detected!
Wikia is a free-to-use site that makes money from advertising. We have a modified experience for viewers using ad blockers

Wikia is not accessible if you've made further modifications. Remove the custom ad blocker rule(s) and the page will load as expected.