Sigmund Smith

Statistics
Age:
18 - 20's
Nation-State:
United States of America
Hometown:
Malibu, California
Gender:
Male
Hair color:
Black
Eye color:
Black
Skin color:
White
Family and Friends
Pets:
Cat
Nemesis:
Malibu University
Personality and Ability
Dislike:
Riptide State always losing the Beach Sport Mega Tournament.
Professions:
Student, Mascot
Affiliations:
Riptide State
Behind the Scene
Biography
Sigmund Smith was in the episode "Evil Mascot". He built a weaponized version of Riptide State's mascot, Sigmund the Seagull, and used it to attack the sports team captains of Malibu University. He wanted to ensure that Riptide State won the annual Beach Sport Mega Tournament after Malibu University had won it 6 years in a row.
His plan was foiled by Samantha, Clover, and Alexandra, who allowed Jerry Lewis to take his kitten to WOOAP (World Organization Of Animal Protection).
Gallery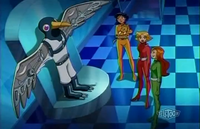 Ad blocker interference detected!
Wikia is a free-to-use site that makes money from advertising. We have a modified experience for viewers using ad blockers

Wikia is not accessible if you've made further modifications. Remove the custom ad blocker rule(s) and the page will load as expected.