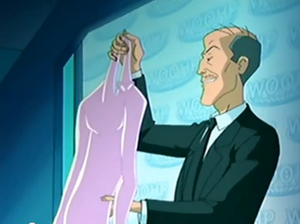 Overview
Seen in "Evil Coffee Shop Much?", it has three main functions, each activated by color-coordinated buttons. It repels, resists and/or releases any exterior substance. It is pink on its own, but once put on, becomes transparent. 
Functions
Blue -- Release
Green -- Resist
Pink -- Repel
Gallery
See Also
Ad blocker interference detected!
Wikia is a free-to-use site that makes money from advertising. We have a modified experience for viewers using ad blockers

Wikia is not accessible if you've made further modifications. Remove the custom ad blocker rule(s) and the page will load as expected.