Rob Hearthrob

Statistics
Age:
20s
Nation-State:
United States of America
Hometown:
Hollywood, California
Alias:
Rob Idole (French name)
Gender:
Male
Hair color:
Black
Eye color:
Green
Skin color:
White
Family and Friends
Personality and Ability
Love interests:
Clover
Professions:
Rock star
Behind the Scene
First appearance:
Totally Spies! The Movie
Voiced by:
Lyon Smith
Voiced by:
Lyon Smith

Rob Hearthrob is a rock star that went through the Fabulizer. He appeared in "Totally Spies! The Movie".
Biography
He is a rock star that appears in the feature film "Totally Spies! The Movie". At the beginning of the film, he is getting ready for the concert where his hair is styled with a blond tuft, but then his cheek mole blinks mysteriously, and he has a blank stare as he walks out of the venue. As a light beam shines on him, he smiles and says "Fabulous" and is lifted up in the air.
It is later revealed that he was one of the people who were transformed by the Fabulizer and taken by Fabu and his group to inhabit a space station Fabutopia. When the Spies see him, he is playing volleyball with Peppy Wolfman.
Samantha, Clover, and Alexandra eventually rescue him and the other abducted people aboard the station. He is freed of the hypnotic trance when the girls destroy the beacon in Fabu's staff, and evacuated in time before the station was destroyed. His face was later restored and his memories concerning the situation were erased by WOOHP. He thanks the spies by calling Clover and asking her out on a date.
Gallery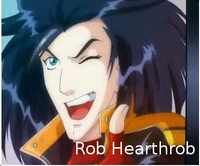 Ad blocker interference detected!
Wikia is a free-to-use site that makes money from advertising. We have a modified experience for viewers using ad blockers

Wikia is not accessible if you've made further modifications. Remove the custom ad blocker rule(s) and the page will load as expected.