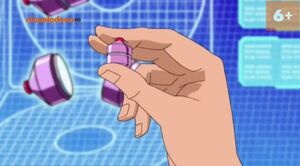 Overview
The Ooey-Gooey Blaster Cap is seen in "WOOHP-Ahoy!". Once deployed, it immobilizes its target with a substance 1,000 times stickier than molasses. Jerry Lewis says there is an antidote for it at WOOHP when he accidentally hits an agent with it.
Gallery
Ad blocker interference detected!
Wikia is a free-to-use site that makes money from advertising. We have a modified experience for viewers using ad blockers

Wikia is not accessible if you've made further modifications. Remove the custom ad blocker rule(s) and the page will load as expected.