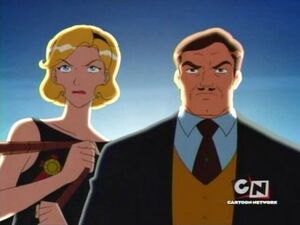 Biography
They appeared in the episode "The O.P." They were using brainwashing devices to create the perfect community at Ocean Palisades. After being stopped by Alexandra, Samantha, and Clover they were sentenced to 1000 hours of community service and compulsory parenting classes. Jerry explained that locking them up "would be a little harsh".
Trivia
"The O.P." is a reference to and parody of:
The mother is seen as a guest at the English Royal Wedding in "The Wedding Crasher".
The O.P. Parents are among the few non-revenge based villains on the show, as they seem to want the best for their children. Sam even considers them "pathetic" as they seem afraid of their own kids.
Gallery
Ad blocker interference detected!
Wikia is a free-to-use site that makes money from advertising. We have a modified experience for viewers using ad blockers

Wikia is not accessible if you've made further modifications. Remove the custom ad blocker rule(s) and the page will load as expected.