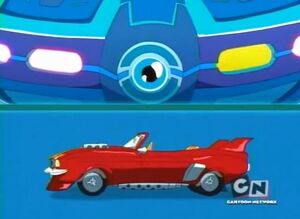 Overview
Seen in "The O.P."
Jerry Lewis acquired it from a WOOHP auction of goods seized from criminals. He then gave the car to the girls as a gift. Due to it's origins, the vocal commands do the exact opposite of what the driver wants. It was eventually destroyed by the end of the episode.
Equipment
High Powered Invisibility Shield
Titanium alloy armor (fails to work)
Voice activated (malfunctions)
Trivia
Gallery
Ad blocker interference detected!
Wikia is a free-to-use site that makes money from advertising. We have a modified experience for viewers using ad blockers

Wikia is not accessible if you've made further modifications. Remove the custom ad blocker rule(s) and the page will load as expected.