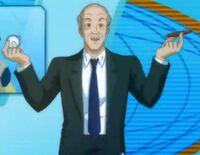 Overview
The Monocle Magnifier is an older gadget that was used before the girls became spies. Its only appearance was in "Totally Spies! The Movie".
The gadget resembles a simple monocle. The gadget was never used, and while its functions were never described, its namesake indicates that it could be worn to view objects from a distance with an enlarged and clearer image.
Ad blocker interference detected!
Wikia is a free-to-use site that makes money from advertising. We have a modified experience for viewers using ad blockers

Wikia is not accessible if you've made further modifications. Remove the custom ad blocker rule(s) and the page will load as expected.