I, Dude is episode 9 of Season 2.
Characters
Synopsis
Frankie Dude, an ex-surfer who hit his toe on the pier of a beach resort is destroying beach resorts to restore them to prime surfing spots using tsunamis.
In the B-story, Sam goes on a hunger strike with David to help Ms. Muckle after she was replaced by a machine.
Gadgets
Trivia
Clover speaks fluent Valleyspeak and the surf culture language.
The shark submarine is seen in:
This title is a reference to the story "I, Robot".
Top 5 surfing areas of all time

1. Los Angeles
2. Kirke's Cove, South Africa
3. Kangaroo Point, Australia
4. Indonesia
5. Fiji

Clover reads "Board Master" magazine.
This episode is copied in "Little Dude".
Goof: Fiji is spelled Fidji.
Gallery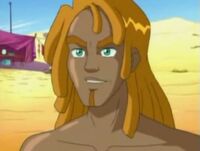 Ad blocker interference detected!
Wikia is a free-to-use site that makes money from advertising. We have a modified experience for viewers using ad blockers

Wikia is not accessible if you've made further modifications. Remove the custom ad blocker rule(s) and the page will load as expected.