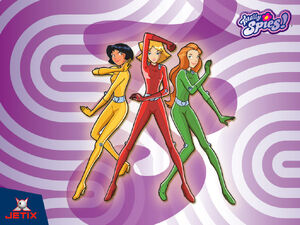 Names
Hair Color
Alex is depicted as a horrible driver.
She is extremely clumsy.
Clover is frequently kidnapped by villains.
Due to her being obsessed with physical appearance, Clover is also the one that is most often transformed or dressed in differing outfits by villains; the latter case occurs when a villain selects her to be their consort (i.e., their wife and co-regent) in a world domination scheme.
Due to her being the most intelligent of the 3 girls, Samantha is the one that gets brainwashed and hypnotized the most.
All 3 Spies
All three girls have, at some point, been selected by a villain to be their queen and/or empress; that is, their wife and co-regent (though historically, the consorts of rulers had no power at all unless her husband gave it to her). The definition of queen consort is "the wife of a reigning king", though most of the villains that choose the girls to be their queens actually don't organize a wedding ceremony to make them their wives and most are immediately rejected by their chosen brides.
Calls people "Losers".
Arrogant tone and nasal laugh.
Outside of "Totally Dunzo", whenever she learns about the spies, she gets her memory erased.
Mothers
Despite their daughters being shown in numerous combat situations that involve public attention, the mothers only find out about the spy careers in "Totally Busted".
Main character mothers seen.
Main character mothers not seen.
Fathers
Main character fathers seen.
Main character fathers not seen.
Lewis family
His organization had the acronym "LAMOS".
Villains
Despite almost always having diabolical plans that will end with death, no villain has ever actually managed to kill anyone.
Nearly all of the villians are skilled in hand-to-hand combat or physical strength.
Jerry is the only person shown who can command WOOHP over an extended time.
Running Gag: Whenever a WOOHP info window is open during the first two seasons, there is usually a second window by the name of "UPWATI" open right next to it.
Ad blocker interference detected!
Wikia is a free-to-use site that makes money from advertising. We have a modified experience for viewers using ad blockers

Wikia is not accessible if you've made further modifications. Remove the custom ad blocker rule(s) and the page will load as expected.