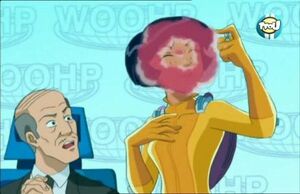 Overview
The Frequency Blocking Body Spray was a Gadget seen in "Evil Sorority". It has a lavender scent and is designed to block electronic frequencies.
When Samantha and Alexandra were captured by Muffy Peprich and given badges with mind-controlling microchips to wear, they fell under her control. However, as Alex had tested the spray on herself while at WOOHP, she was not affected as the Frequency Blocking Body Spray was successful, and this allowed her to free Sam from the mind-control, and ultimately resulted in defeating Muffy.
Ad blocker interference detected!
Wikia is a free-to-use site that makes money from advertising. We have a modified experience for viewers using ad blockers

Wikia is not accessible if you've made further modifications. Remove the custom ad blocker rule(s) and the page will load as expected.