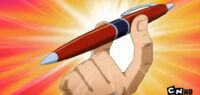 Overview
The Fountain Pen Microphone is an older gadget that was used before the girls became spies. Its only appearance was in "Totally Spies! The Movie".
The gadget resembles a red fountain pen with a dark stripe across the upper base of the pen. The gadget was never used, and while its functions were never described, its namesake indicates that it may be used for espionage purposes, such as for taking audio recorded notes or for communication.
Gallery
Ad blocker interference detected!
Wikia is a free-to-use site that makes money from advertising. We have a modified experience for viewers using ad blockers

Wikia is not accessible if you've made further modifications. Remove the custom ad blocker rule(s) and the page will load as expected.