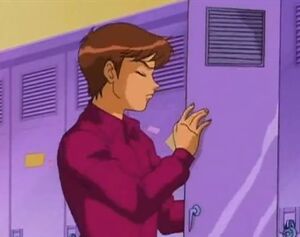 Biography
Chad appeared in "Spies in Space". He was a student at Beverly Hills High who got interested in Samantha when he heard she may be going to college early. He tells her that he will call her later because he wants to get to know her more which flatters Sam as he is known not to date anyone from high school. Alex comments that Chad's interest in her graduates Sam to a whole "new level of coolness." Chad however loses all interest in Sam at the end of the episode when she decides to stay with her friends in high school and not graduate early.
With his tan skin, muscular build, and brown hair, Chad resembles Tim Scam; Sam gains feelings for him in the series after his first appearance in season 1.
Gallery
Ad blocker interference detected!
Wikia is a free-to-use site that makes money from advertising. We have a modified experience for viewers using ad blockers

Wikia is not accessible if you've made further modifications. Remove the custom ad blocker rule(s) and the page will load as expected.