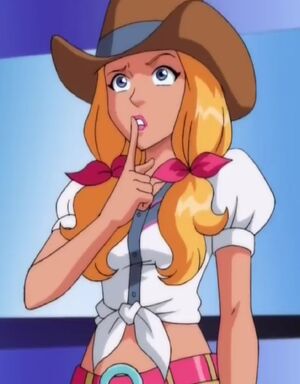 Biography
Bethany appears in "Super Mega Dance Party Yo!". She was first introduced in the girls' penthouse where she was revealed to be their new roommate. During her time in the penthouse she changed everything to suit her country style; moving her stuff to Sam's room, replacing all of Clover's clothes with hers and even taking all of Alex's milk from the fridge and planing to make butter out of it (of course Alex did like it when she served fresh corn with fresh butter). Bethany questions the girls about their whereabouts since early in the morning all three went to the bathroom and suddenly appeared in the front entrance of the penthouse.
When she forced herself into Clover's room (while the girls were talking to Jerry about both the theft and Bethany being their roommate), she was hit by the Ice Queen Perfume. At the end of the episode, Jerry assigned her to live with Mandy and Trent instead of the spies.
Trivia
Bethany is voiced by Stacey DePass, who is best known to voice Nikki Wong from 6teen.
This makes her the second female character to be voiced by a voice actress from 6teen, and also the third to be voice by a actor is played one of the main characters.the first being Kyle Katz who was voiced byTerry McGurrin from "The Suavest Spy" and the second being Muffy Peprich who was voiced by Megan Fahlenbock from "Evil Sorority".
Gallery
Ad blocker interference detected!
Wikia is a free-to-use site that makes money from advertising. We have a modified experience for viewers using ad blockers

Wikia is not accessible if you've made further modifications. Remove the custom ad blocker rule(s) and the page will load as expected.